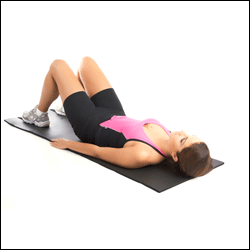 Lie on your back with hands by your sides, knees bent, feet on the floor, legs shoulder-width apart. While squeezing the glutes, slowly lift hips off the floor. Lower back down and repeat.
*Note: Try not to let butt touch ground when lowering between reps.
Target: Lower
Equipment Needed: none
See more animated exercise demos here, or view our video exercise demos!