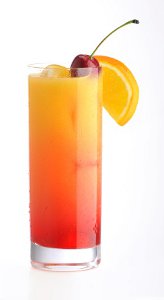 Cooling off with refreshing cold beverages is a must for many people during the warmer months. However, dieters often forget to consider the calorie count in drinks as they plan out their meals for the day! A pretty, tropical drink can pack a lot of extra calories and send you over your healthy calorie range if you're not careful.

Here are four tips to consider the next time you kick back and cool down with a drink:

Don't give in to iced espresso drinks! Irresistibly cold and delicious on hot summer days, many people don't realize that their caffeinated refreshment has, on average, over 200 calories. A Grande Mocha Frappuccino with no whipped cream at Starbucks has 290 calories and 4 grams of fat. Factor that in with the rest of your meals and snacks, and that drink could easily send you over your limit.

Do opt for a regular iced coffee and add a splash of non-fat or low-fat milk to cool down.

Don't be deceived by fruit smoothies. While you might think you're choosing the healthiest option by going for a fruit smoothie over drinks such as chocolate shakes and malts, fruit smoothies can contain a lot of calories due to sugar and yogurt, two common ingredients. Cold Stone Creamery's regular Strawberry Bananza Smoothie is 344 calories alone!

Do go for a healthier option with fewer calories by blending your own smoothie with a combination of your favorite fruits. Instead of ice cream or yogurt, try nonfat milk or soy milk.



(Tip continues below)




Don't go overboard on sugary alcoholic beverages. Wine coolers and other mixed sugary drinks contain high numbers of calories and can easily throw your diet off track if you have a few. It's certainly easy to do so if you're at a party or other social gathering for a few hours and need something cold to drink! A Mike's Hard Lemonade contains 220 calories. A margarita (1 pint) contains on average 550 calories!

Do go for a glass of white wine or a light beer for fewer calories and just as much summer refreshment.

Don't load up on juice blends from the grocery store that contain a lot of added sugar.

Do consider eating your fruit instead of drinking it. While replacing sugary soft drinks with fruit juice is certainly a healthier option, consider eating a whole fruit rather than drinking it to take advantage of fruit's natural healthy benefits! A fruit's skin and pulp contain a lot of fiber and nutrients that are broken down when juiced.

There's nothing wrong with enjoying your favorite beverage. Just remember ultimately to factor your drink's calories into your daily caloric intake. As the temperature rises this summer, remember to stay hydrated and drink plenty of water.