The Nutrition Bar is an easy solution for whenever you're on the go and need a quick meal replacement or snack. Bars taste great, pack a lot of nutrients, and are very convenient. With so many bars to choose from at the grocery store, you might find yourself overwhelmed! How do you know which one is the healthiest choice?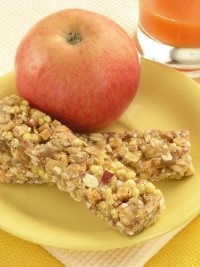 Here are four important factors you should be aware of to help fit nutrition bars into your balanced diet plan:

1) Beware of "Energy Bars." Sure, you might want energy when you reach for a bar, but be aware that the phrase "energy bar" only means that the bar contains calories. Calories feed your body energy. While energy bars can certainly provide you with the boost you need, so will any other combination of foods with the same number of calories! Bars are no substitute for the nutrients you'll receive from whole grains, fruits, veggies, and protein sources.

2) Look closely at the Nutrition Facts label. Remember to compare the calories, fat, carbs, fiber, sugar, and protein to your diet goals during the day. How much of your daily caloric needs does the nutrition bar fulfill? Are you consuming the bar as a snack or as a meal replacement? While the best bars help you feel satisfied at least in the short-term, they won't satisfy the way a prepared, complete meal will.



(Tip continues below)




3) Up the Protein, Grains, and Dietary Fiber. Find a bar that's high in protein to help keep you satisfied longer! Protein in most bars comes from soy as well as nuts and seeds. Look for bars that contain whole grains for added nutrients and longer-lasting energy, rather than refined grains. Include bars labeled "High in Fiber" to help maintain even blood sugar and regularity. Look for at least 3 grams of fiber in a 200 calorie bar.

4) Consider the bar's fat content. Make sure to choose bars that contain heart-healthy monounsaturated and polyunsaturated fats which help lower cholesterol and reduce the risk of heart disease! Keep an eye out for saturated fats (often found in "yogurt" bar coatings, and trans-fats (often partially-hydrogenated oil on labels). The majority of nutrition bars today do not contain trans-fats but it's always a good idea to check the ingredients list if the bar's package doesn't say "No Trans Fats."

Now that you know what to look for when it comes to nutrition bars, apply these factors the next time you find yourself standing in front of the wall of bars to choose from! Brands like Luna Bars, Clif and Kashi Go-Lean Bars offer a long line of delicious flavors. If you find a bar that you really love, post a review for it at Diet.com User Review section!