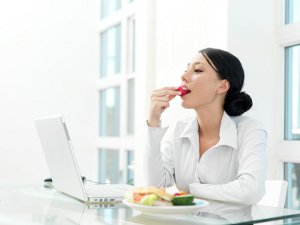 Here are four dieting dilemmas you might catch yourself in, and tips on how to pull through them:

1) The Buffet - (a.k.a. the Hearty Portioner's worst nightmare) – Before you load your plate sky-high with every dish offered, take a deep breath. The key is to plan ahead. First, don't starve yourself all day in preparation, or you could become ravenous at dinner and overeat! Scope out what the buffet has to offer before you serve yourself, and start with a small salad. Choose a few main dishes to try and go light on the servings! Before you head back for dessert, see if anyone wants to share with you.

2) The Late Night Snack - Packing in the munchies right before bed can turn into a dieting downfall if you're not careful. Be prepared before the next nighttime cupboard raid occurs! Try eating more during the day to avoid late night hunger, and clear the junk food out of the house. If you do end up snacking in the evening, focus on enjoying one low-fat snack on a plate and while sitting at a table. This way you're less likely to overeat.



(Tip continues below)




3) The Night Out - Are you worried that you have to sacrifice your diet in order to enjoy a night on the town with friends? No need! First off, don't deprive yourself. You're out to have fun and enjoy. It's okay to allow yourself a little diet leeway for a special night. Plan ahead so you can taste a small portion of those tasty appetizers and then split your entrée with a friend. Alternate a glass of wine with a glass of water, and try to avoid beverages loaded with too much sugar.

4) Food Pushers at Work - Do you feel like your coworkers are trying to sabotage your diet with pastries, potato chips, candy bars, and other unhealthy workplace treats? Counteract their offers by keeping healthy office snack options available. Starting Monday, bring a selection of fruit to last you through the week. Have portion-controlled containers of healthy munchies like saturated fat free microwave popcorn on hand. Finally, it's perfectly fine to respectfully decline their junk food temptations. Just say no!

Don't give in to dieting dilemmas. Keep these tips in mind and be prepared the next time you face potential diet setbacks. Feel proud of yourself for taking control of what you eat and keep your goals for a healthy new lifestyle in sight. Even if you do experience the occasional diet downfall, pick yourself back up and keep moving!