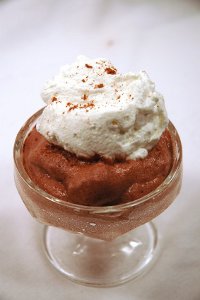 Here are four irresistible alternatives to those high-fat sweets you thought you couldn't live without:

1) Who doesn't love chocolate? Instead of reaching into your candy bar stash after dinner, satisfy your chocolaty craving with fat-free chocolate pudding. Usually under 100 calories, pudding such as Hunt's Snack Pack Fat Free Pudding not only tastes great, but is quick and convenient too! If pudding isn¡¯t your thing, try some non-fat chocolate milk or even Silk Chocolate soy milk.

2) If you have a little time after a meal to prepare a dessert, baked fruits such as apples or bananas are an excellent way to enjoy dessert, and even get some fiber and extra nutrients. On the run and need something quick? Sprinkle a little cinnamon or brown sugar on some fruit and microwave for a bit for a warm and wonderful post-dinner nosh.



(Tip continues below)




3) Instead of high-fat ice cream to cool your sweet tooth, try a single serving of fat-free frozen yogurt with a little maple syrup. To add to the calcium you get from the yogurt, try topping your dessert with some oatmeal for fiber or nuts for added protein.

4) What better dessert is there than cake? While many cakes are full of fat and can squash your diet, a single serving of angel food cake is low in calories and has zero grams of fat. Serve with some delicious raspberries, or even mango or pineapple slices, for filling power and extra sweetness.

While many desserts can pack as many calories as a regular meal, these four ideas are all easy ways to conquer your urge for sweetness, while keeping your calories under control. It is important to remember everything should be done in moderation, and this includes dessert portions!

For more great desserts or to share your own healthy dessert idea, check out Diet.com's dessert recipes!