Summer can be a good time to challenge yourself in new and healthier ways.

Maybe you're spending more time enjoying the warm weather and exercising outdoors or eyeing all that great produce and preparing more healthy salads at home. This is also a good time to review your weight loss program, gauge just where you are at and step it up a notch.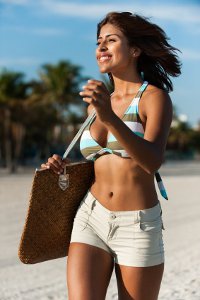 Here are some tips to guide you:

1. Be a summer track star. Whether or not you've tried tracking your diet in the past, it's always good to engage in a tracking refresher course. Each time you track, you end up paying more attention to something new about your diet. Growing portion sizes at breakfast, snacking on too many chips or drinking too much wine may become apparent. We challenge you to track your diet for 1 full week and then journal or blog about what you have learned.

2. Supplement exercise. You can supplement your summer exercise program with a brisk walking program. Studies have shown that if you wear a simple pedometer (step counter), you'll be more motivated to walk more during the course of your normal day's routine. For 1 week, we challenge you to track your daily steps taken. A long term goal is to take 10,000 steps per day. See where you are and commit to increasing those steps taken week to week. Even when not wearing a pedometer you'll be more aware of what you need to do to boost your activity level both at work and at home.



(Tip continues below)




3. Eat less sugar. For 1 week, we challenge you to forego sweet treats. People typically say that this exercise helps them to change their taste buds so they actually crave fewer sweets. Who said every meal has to end with a sweet treat? Maybe a sweet treat should be an occasional (not daily) indulgence? You don't have to be a bride-to-be or a Hollywood starlet to ban sweets from your diet for 1 solid week. Try it and see what you can learn.

4. Forego meat. When you go meatless, you will naturally be filling your stomach with more low-calorie fruits and vegetables as you seek more vegetarian type meals. Try new recipes like vegetarian chili, vegetable and bean fajitas, a vegetable pasta dish, or even one of the newest veggie burgers. Pair with a side salad and you'll see how easy it is to maximize your daily vegetables servings.