Healthy foods need to make it from the store shelves to your kitchen shelves (and then to your stomach!) if you want to change your eating habits and better manage your weight.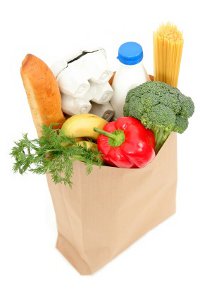 But because that weekly grocery shopping trip is often squeezed in between work and family responsibilities, you may not be giving it the attention it needs so that you get the weight loss results you desire.

Here are some smart grocery shopping tips that form the foundation of a sound weight management program:

1. Keep a running tally. You don't need an extensive organizational system to keep track of your grocery list week to week. As long as you stock your kitchen counter with post-its, you'll be able to keep track of your food stock. When you run low on milk, yogurt, orange juice or eggs, just jot the item onto a post-it and keep it as your running list. Encourage family members to add to the list as well. Weekly, make a special effort to add the ingredients for 1 or 2 new healthy recipes, which will help you approach each new week feeling more in control and on program.

2. Know label-reading basics. It's important to know the 3 most important label features when it comes to healthy weight loss. First, look at the calories per serving size. Snack calories should be less than 200 and meal calories should be 400-600. Also, if you eat double the listed serving size, then, you need to double the calories. Second, look at the fiber. You want to choose products that are a good fiber source (contains 2.5-5 grams of fiber) or high fiber source (contain more than 5 grams). Third, look at the unhealthy fats: saturated and trans fats. You want to limit your intake of saturated fats to 10% of your total calories – which means no more than 15 grams of saturated fat for someone on a 1500-calorie diet. You also want to limit your intake of trans fats. Some new products have labels that say "trans fat free" to make it easier for consumers to identify products made without trans fats.

Certainly, other label features may also be important depending on your particular health needs like diabetes, high cholesterol or hypertension.



(Tip continues below)




3. Choose color. The perimeter of the grocery store offers you the most colorful array of fresh fruits and vegetables. You want to fill your cart with these good-for-you, low calorie foods that help you fight chronic disease in addition to helping you manage your weight. If you're not sure which apples are the tastiest, ask the grocer. Many will even wash and cut a piece of fruit for you to taste. Red apples, blue blueberries, orange mangoes, yellow squash, green spinach and red cabbage are some of the examples of colorful produce that will help you stay on the healthy weight loss track. Check out the Diet.com Recipes for new ideas of how to prepare them.

4. Think meals in minutes. Be sure that you are stocking your cart with foods that can help you make meals in minutes. Spaghetti sauce, whole grain pasta, rotisserie chicken, canned tuna or salmon, light cheese slices, canned soups, frozen veggie burgers, vegetarian baked beans, bagged lettuce, cut-up vegetables, frozen fruits or vegetables and frozen Smart Ones are some of the items you'll want to keep on hand. A side salad and pizza bagels, tuna melts, black bean burritos, veggie burgers or spaghetti can offer your family a tasty quick dinner – also, much healthier and less expensive than take out.