We often think about the menu options at fast food restaurants as ranging from less-than-healthy to horribly unhealthy.

But the truth is that the fast food industry has been making strides to offer healthier fare in their menu mix.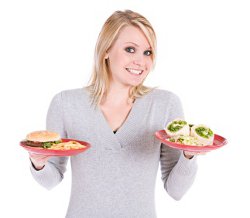 When pressed for time, it's a challenge finding fast, healthy food options on the run. But it's not impossible. Here are some tips to guide you:

1. Downsize, don't supersize. It may be obvious not to choose the supersized burger and fries but did you also know that it's probably best to choose the half sandwich instead of eating the whole thing? Splitting a sandwich is probably the easiest way to do this but some establishments (like Panera Bread) offer half-size sandwiches. Another option is to take half home for another meal. A half sandwich with a broth-based soup or a piece of fruit can make a great, quick lunch-time meal that doesn't break the calorie bank.

2. Change the fixings. You can make special requests that help to tweak the ingredients and calorie level of your meal. Examples include building a tortilla meal with more veggies and less cheese, requesting a sandwich with mustard and pickles instead of a mayo based sauce, topping your oatmeal with fresh instead of dried fruit or asking that your omelette be made with cooking spray instead of butter. Sometimes you need to ask questions regarding what's in the meal and how it's prepared so you can make these changes when ordering.



(Tip continues below)




3. Choose color over bland. Instead of eating white potatoes, white rice or white bread, fill your plate with bright colors like the ones in a vegetable salad, a side of fresh fruit, vegetable soup or veggie and egg scrambler. Red, green, orange and purple vegetables or fruits are low calorie and give you a big nutritional boost. Look at menus before going to a restaurant and choose places that offer healthier fare.

4. Slurp and sip smartly. Liquid calories in sodas, juices, wine, beer and other alcoholic beverages can really add up. If you can choose no-calorie drinks like water with a slice of lemon or lime or tea, you'll have an easier job managing your calorie intake. You need to be mindful about the type of soup you order also. Select broth-based soups instead of the cream-based ones and consider starting your meal with soup as a way to help yourself feel full faster. Try lower calorie soups like the ones offered at Au Bon Pain.