With so much to do each day, we could all use some diet reminders that will help us save time and calories.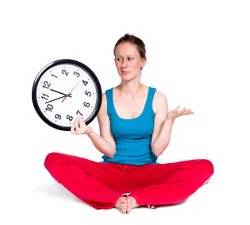 Eating fast food or ordering take-out aren't the only solutions for your last minute meal dilemmas. Instead, you can use some easy-to-follow strategies for healthy eating on the run.

1. Don't be chicken. A great time-saver that can be practiced in nearly any grocery store (or even a warehouse club, like Sam's Club or Costco) is to pick up a rotisserie chicken. This chicken can be cut up and tossed into an entrée salad, a taco wrap, a pasta dish or even used to make chicken salad. Within minutes, you can prepare a dinner that your whole family can enjoy.

2. Bag it. Buying bags of lettuce, mini carrots and cherry tomatoes means that you can have a healthy vegetable salad most nights of the week, made in minutes. Yes, it may cost a bit more but it is much less costly than going out to eat or ordering in. Each week, make sure your vegetable bin is filled with convenient, ready-to-use veggies that require little prep time.



(Tip continues below)




3. Try the deep freeze. Make sure your freezer is stocked with healthy, frozen meals for those nights when you only have minutes to put dinner on the table. Spend time on the weekend looking at Lean Cuisine, Healthy Choice or Smart Ones meals that look good to you. Through trial and error, you're sure to find your favorites. When paired with a side salad or canned soup, these meals can satisfy your taste buds - and they take just minutes to make.

4. Reach for the bar. Dieters short on time need to keep meal replacement bars close at hand for that last minute breakfast or lunch meal on the run. Look for meal replacement bars that are between 220-350 calories, less than 4 grams of saturated fat per serving, at least 10 grams of protein per serving and at least 3 grams of fiber per serving. Keep some at work, in your car or in your purse for a last minute, quick meal on the run.