If you're not losing weight, part of the problem may be that you aren't planning ahead to make healthy meals and snacks a part of your daily routine.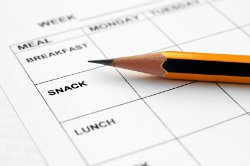 You don't have to be a gourmet cook to follow through. Instead, you just need to get organized, give attention to your daily diet details and plan ahead.

Here are some tips to guide you:

1. Establish morning routines. Your morning routine can either make or break your diet program. Studies have shown that people who start their day with a healthy breakfast meal are healthier overall and do better losing weight. Commit to keeping healthy breakfast meal options in your home like a high fiber cold cereal, oatmeal, fresh fruit, eggs, whole grain waffles or meal replacement bars that take only minutes to assemble. Set your alarm 15 minutes earlier so that you make time for your most important meal of the day.

2. BYO – bring your own lunch. If you're in the habit of eating lunch out on most days of the week, then you're probably eating too many calories on a daily basis. The foods you eat out tend to be higher in calories and salt and lower in fiber than foods brought from home. Think about the types of lunches you can bring from home. These may include leftovers from the night before, a healthy sandwich, low fat yogurt or cottage cheese, fruit or cut up veggies. And remember to always keep some meal replacement bars (like Clif Builder bars) on hand for when time is short.



(Tip continues below)




3. Plan dinner meals week to week. On a weekly basis, you want to commit to grocery shopping with your dinner meals in mind. This may take some planning ahead before heading to the store. Check out some new recipes or your meal plans, and base your shopping list on the dinner meals planned for the week. Fill your cart with different kinds of lettuce and vegetables that can make quick dinner salads. Always keep some frozen or canned goods on hand for those times when you're short on fresh foods. By planning ahead, you can boost your health and save money by ordering less take out.

4. Have available snack foods. You also need to have healthy snack foods available at home. Planned snacks should be a part of your healthy weight loss program. The best options are usually a combo of carbs and protein, like hummus and whole grain crackers, peanut butter and apple slices or low fat yogurt and nuts. Add these foods to your weekly shopping list. For more 100-200 calories snack ideas, check out the Diet.com Meals in Minutes Guide.