Are you someone who likes to have variety in your diet choices so you don't get bored? Well did you know that having too much variety could actually sabotage your weight loss success?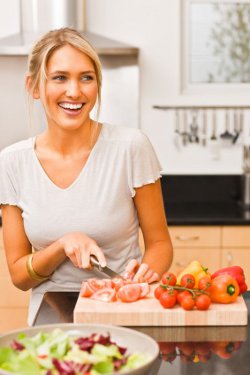 Once you better understand the pitfalls of having a large variety of foods to choose from, you can learn the tips and tricks to take back control of your diet and your weight.

Here are some tips to help you:

1. Use variety to your advantage. At Thanksgiving time, you may serve many different starches because one relative likes only mashed potatoes and another loves her sweet potatoes. Well – when you're offered two starches, you will likely want to taste both. This is one of the reasons that Thanksgiving is such a popular time for overeating. Make sure that you're not falling into that same trap by being a short order cook at home – because offering your family a larger variety of foods will cause you all to eat more. Limit your dinner meal to one entrée and one starch (and a variety of veggies as an incentive to eat more of these good-for-you foods!) and you'll be well on your way to a healthier diet.

2. Limit variety when eating out. One of the biggest mistakes people make when eating out is to order a variety of appetizers before the meal even begins. When you're sitting at a table with many different dishes, it's just human nature to want to sample all of them. Eating out will be easier if you skip the appetizers altogether and focus on a side salad or broth based soup as a healthy start to your meal. And if you're eating family style, try ordering one less dish than you think is needed. Eat slowly and enjoy, and know you can always order more if needed.



(Tip continues below)




3. Stick with diet favorites. If you surveyed nutrition experts, you may be surprised to find out that they typically eat the same breakfast and lunch meals day to day. That's because once you find breakfast and lunch meals that are satisfying, healthy and easy to eat on a daily basis, it just makes sense to stick with these healthy favorites. Certainly there will be some days when you'll eat differently and that's okay. I encourage you to pick just one or two breakfast and lunch meals that work well for your lifestyle, tastes and budget and stick with them. If you need help with this, reach out to our registered dietitian who's an expert at helping dieters with their meal planning.

4. Survey buffet before digging in. Buffets' huge variety of foods may make you want to taste everything! You will need a plan in place so that you can make better choices and stay on program. First walk around the buffet to survey the offerings. Take a small plate and be moderate as you serve yourself helpings of the different foods. Enjoy roasted veggies, grilled seafood, fish or chicken, salads without creamy dressings, fresh fruit, a whole grain starch if available and some chocolate dipped strawberries, a cut up taffy apple or a small brownie for dessert. If your buffet doesn't offer such healthy options, do your best at making the healthiest choices possible. And remember that buffet style eating should be for special occasions not a daily indulgence.