What you see in your surroundings can either set you up for diet failure or diet success.

That's the thinking behind why nutrition experts review with clients the specifics of how to make their home and work environments work for them instead of against them.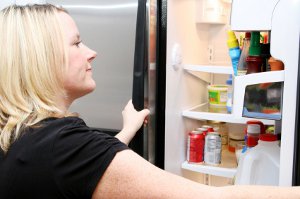 You may be surprised to know that making some small changes around you can have a big impact on your daily diet choices.

Here are some things to think about:

1. Eye that counter. The foods on your kitchen counter are there to remind you to eat them. A big colorful fruit bowl makes a bold, nutritious statement about these good-for-you foods. In contrast, the bowl filled with candies or jar filled with cookies are also tempting you to "treat" yourself morning, noon and night. Give a health boost to your kitchen counters while also clearing them of clutter. Make room for an ongoing shopping list to help you stay organized.

2. Survey the top shelf. When opening the fridge, the first thing that is eye level and visible should be the types of foods you want to be eating more of as a part of your healthy weight loss program. The top shelf is the ideal place for cut up veggies, fruits and low fat yogurts. Place washed grapes in clear view as well as honey crisp apples and fresh oranges. Arrange mini carrots and sliced cucumbers so they're easy to grab. Also - think about the types of foods that are recommended to hide... like the cheesecake!



(Tip continues below)




3. Witness your workplace. You may not be able to control the types of foods brought into your workplace break room but you can control the types of foods that sit atop your desk or inside your drawer. Instead of keeping a jar of jellybeans or M&M's, I recommend you find healthier alternatives such as sugar free gum or mints or herbal tea packets. Keep some healthy snack type foods in your desk drawer like Luna bars or microwave popcorn packets. Also, don't feel shy about altering your walking route to bypass the candy dishes on your co-workers' desks.

4. Think about your travels. If you spend a lot of time on the go, what you carry in your purse or briefcase can either help or harm your diet. Nutrition bars along with a baggie filled with high fiber cereal, carrots or nuts offer you a healthier meal and snack alternative than stopping for fast food. This just requires a few minutes of planning time ahead. If you know you've got a busy schedule and won't have time to stop for lunch, consider packing your own just in case.

Use these 4 steps to survey your surroundings and make choosing healthier foods easier.