There are times when you may find yourself wondering how to enjoy a fast lunch without ruining your diet.

Convenience often rules when time is short. You're shopping seasonal sales and before you know it you may end up in a food court.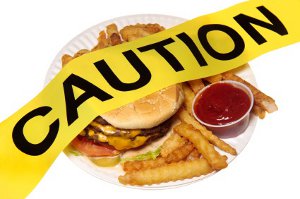 Food courts are known for their high fat, high calorie temptations - like cinnamon buns, milkshakes and piled-high French fries - but with some smart choices and knowing how to avoid food traps, you can still stay on program.

Here are some tips to make your food court visit just another positive step in your healthy lifestyle journey:

1. Make healthy requests. By making special requests at the counter, your order may take a bit longer, yes... but isn't your health worth it? "Hold the mayo," "No cheese, please," "Sauce or dressing on the side," "Extra lettuce, tomatoes and pickles," "Fruit instead of fries," "Make my chicken sandwich grilled instead of fried," "Water instead of pop." These are some of the requests you can make to ensure your meal will be more healthful.

2. Feel full on fiber. Finding fiber-rich foods may not be easy at a food court but it is possible. Look for whole fruit such as an apple, banana, an orange or fruit salad. Or how about a salad filled with fresh veggies - and topped with some protein like grilled chicken? Dishes with beans such as chili or a bean soup, some hummus or a bean burrito are also fiber rich. Yes, you still need to be portion-savvy but when you're packing in the fiber, you'll usually be more aware of feeling full - sooner than later - and may be less likely to overeat.



(Tip continues below)




3. Skip American fare. Food court selections are a good reminder that the typical American fare is much heavier on the protein main course and lighter on the veggies. In contrast, other international-focused menu options often offer more vegetable-based meals with the protein source as a condiment - not as the main event. For Japanese options, check out edamame, sushi or maki rolls or broth based soup. Considering Asian, try a stir fry with lots of veggies with chicken or tofu or order fish or seafood (non-fried, of course). Look for lentil or other bean dishes or salad with yogurt at the Indian counter. For a popular Middle Eastern selection, try hummus and pita or chicken shish kebab. Mexican options include many bean dishes, gazpacho, other vegetarian selections or entrée salads.

4. BYO and save money. One of the best on-the-go healthy eating strategies occurs before you leave your home. Toss some Go Lean or Clif bars in your purse or briefcase for a quick meal that can be coupled with some water and a piece of fruit. Your children can still enjoy the food court while your healthy lunch meal will already be decided. You'll have more time to relax, eat slowly and enjoy - and you'll have more money in your pocket.

Before your next outing to a shopping mall, remember these 4 ways to keep order in the food court!