It's no surprise that Hollywood stars who can afford personal trainers, nutritionists and weight loss coaches have an easier time following through on their program and losing weight.

But having a supportive team of weight loss experts at your beckon call isn't the only way to be accountable and realize your goals.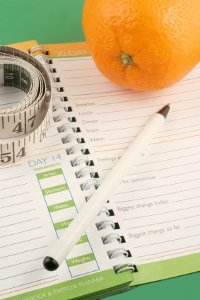 In fact, every day dieters learn easy ways to help themselves through different self-monitoring techniques.

You can follow these too.

1. Keep an activity diary. Give your exercise program a boost by keeping track of your activity week to week including the time, duration and intensity of your workouts. Also note your energy level and mood, which may help reinforce the relationship between a higher activity level, more energy and better mood. This simple task will help you set new goals week to week and fight exercise boredom at the same time as you start challenging your muscles in new ways.

2. Fight nutrition amnesia. Take out those measuring cups, spoons and kitchen scale as you spend some days measuring your food and portion sizes. This will help sharpen your eye rather than always estimating. You'll be surer of your calorie intake, will have better food tracking data to work with. This strategy can also help you make positive changes like using smaller wine glasses, smaller cereal bowls or making pre-portioned baggies of pretzels, baked chips, popcorn or other snack foods.



(Tip continues below)




3. Do self-evaluations. By reviewing your food and activity diaries weekly and by also stepping on the scale daily (or at least weekly), you can start the process of evaluating your weekly progress. Ask yourself what has been working well, what needs improving and what you need to zero in on next week to increase your success. Find a supportive diet buddy here at Diet.com who can help you problem solve or blog about your journey, which can also be quite revealing.

4. Reward yourself. Part of the reason people do so well with personal trainers or diet coaches is because these experts give them a consistent stream of encouragement. It's also good to set up your own system for giving yourself rewards. One idea is to put money away for each week you are staying on program and then periodically plan on rewarding yourself with a spa day, a special health related purchase or a fun night out on the town. Being able to look forward to these self rewards will help keep you motivated and may even give you a reason to get back on track if your program takes a detour.