Summer and warmer weather may mean it's time to take a new look at your fitness program.

Are you feeling bad heading indoors to the gym when the sun is shining? Or is your midday workout in need of a makeover because of the summer heat?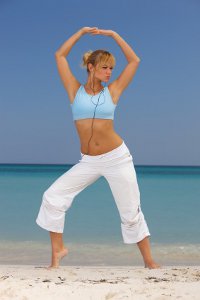 No matter what your summer fitness challenges are, a change of seasons is also a good time to change your workout. Here are some tips to guide you:

1. Take precautions. If you're someone who doesn't want to bring your fitness routine indoors, then take proper precautions especially during the hot and humid days. Instead of changing your workout, change the time you do it – either to very early in the morning or later in the evening. Wear sunscreen and clothes made of light fabrics that are breathable. Drink extra water while exercising and let your body cool down slowly. Making these adjustments will allow you to do the workout you enjoy without becoming overheated.

2. Splish, splash. If you have a community pool or beach nearby, take the plunge and go for a swim. Whether you do the crawl or just walk in the water, water-based exercise activities are kind to your joints and can give your mood a boost too. Or how about finding an aqua aerobics class either at the gym or a nearby community center? If you haven't tried it, aqua aerobics (or aquasize) is a great summer fitness option that is low impact and fun.



(Tip continues below)




3. Try fitness gadgets. Exercise type gadgets don't have to cost a lot of money to add value to your workout. But they can add a sense of newness and fun. Tools to consider are a pedometer, exercise bands, a large fit ball, home exercise videos or DVDs or even one of the new BPA- free water bottles. You may have read the news that many of our plastic water bottles leach chemicals and are considered not safe. By updating your water bottle, you'll be reminding yourself that your health is worth the investment.

4. Make a date. Summer is a great time for creating new routines for yourself – that fit within your home and work schedules. This may be the perfect time to make regular exercise dates with a friend, neighbor, family member or work colleague. Whether it's an early morning walking date, a lunch time power walk, an evening yoga class or even a weekend bike ride, buddying up with others will give you the accountability you need to follow through.

We hope these four tips will help you fight fitness boredom and re-energize your summer fitness program.