You may be surprised to know that hitting a weight loss plateau is really a normal part of the weight loss process.

After losing some weight, your body needs time to show it can hold itself at the new weight.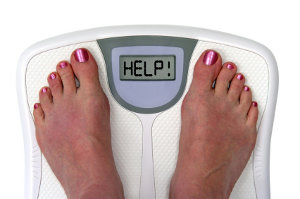 Rather than focus on feeling frustrated during this difficult time, here are some tips with you so you can push past your plateau.

1. Start counting. You count the number of friends you have on Facebook or track the comments posted on your wall daily but how about focusing some of that tracking energy on your weight loss? It is helpful to have objective parameters that tell you how well you're doing. Examples include your weekly weight, body measurements as well as daily food and activity tracking. Re-commit to doing some of these regular self-monitoring activities – which have proven to help dieters lose more weight. With summer just around the corner, this is as important a time as ever to use the Diet.com tracking tools and give yourself that competitive, healthy edge so you can realize better results and push past that plateau.



(Tip continues below)




2. Reach out regularly. To get the full benefits of your premium membership, you should be reaching out to your Diet.com Registered Dietitian on a regular basis. Our registered dietitian and other experts are here to help you succeed but we won't be able to help you unless you tell us about your particular struggles. You have a few ways to do this. You can either send a private message or you can post your situation in the premium member message board: Rate My Plate. Take advantage of your premium membership today by reaching out to us and telling us how you are doing and we can give you tips to improve your results.

3. Have a fresh start. If part of your weight loss program isn't working right, maybe it needs replacing. For example, maybe you can no longer afford your gym membership and need a less expensive option for working out or maybe you have found yourself eating out a lot because of a job change. As life circumstances change, so will your weight loss program.

We hope these tips will give you new ideas for pushing past your plateau and realizing better weight loss results.