When it comes to New Year's resolutions, a common mistake dieters make is overdoing their exercise goals.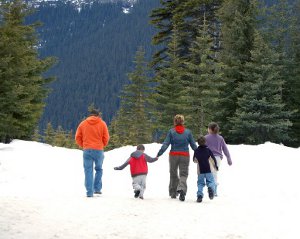 By overdoing it, we mean they make their goals so big and so unrealistic that there's no way they can follow them for very long.

Instead, go slow and find easy ways to add more activity to your daily routine. Here are some tips to guide you:

1. Get credit all day long. The easiest way to become more active is to do so throughout your normal day's routine. No extra travel or special workout required. Sure – wearing comfy shoes will help but you won't need to change clothes to take the stairs at work or to take a walking break during the day instead of a coffee break. Taking your dog for a longer walk is also helpful. Wear a pedometer (a simple step counter) and track the number of steps you take each day. With a long-term goal of taking 10,000 steps per day, you can walk briskly to get the most benefits.

2. Turn on the tube. You can use your television set to watch exercise DVDs or videos that appeal to you. Examples include dance aerobics, resistance training, yoga, Pilates or kettle ball workouts. An excellent resource is our Diet.com fitness videos (and YouTube channel) which has every exercise option you could think of. There are also some cable companies that offer free home workouts. Call your local cable company to see if exercise TV is offered in your area. These options can add variety to your workouts and help you fight exercise boredom.



(Tip continues below)




3. Alternate indoor and outdoor. One mistake people make is to only have one exercise option available, such as going to the gym. The problem here is your exercise program quickly suffers when you're short on time. Instead, think about alternative exercise options – indoor and outdoor. Indoor options can include doing housework, walking in an indoor mall or walking on a community center indoor track. Take the time today to check for options in your community. Also, take advantage of days when the weather permits a brisk walk outside. As long as you're bundled up and are careful of slippery pavements, you can still get your heart pumping and even be invigorated by breathing the fresh air.

4. Find balance. A fun way to strengthen your core muscles is to do different exercises on a large fit ball or on a Bosu ball. Did you know that some schools and workplaces are using fit balls instead of chairs for students and employees to practice balancing themselves? You can do the same thing at home. Sit on your fit ball while watching a favorite TV show or do some strength training moves while balancing yourself on a Bosu ball. This will add variety to your workout and strengthen your core at the same time.

We hope these 4 tips will give you new ideas for fitting in exercise now and into the year!