You know that controlling the portion sizes of the foods you eat will in turn help you control your calorie intake.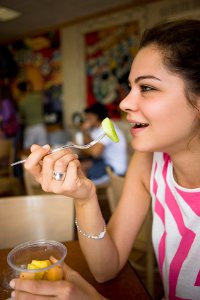 But there are easier ways to control portion sizes besides actually measuring out all of the foods you eat.

Rather than carry measuring cups with you throughout the day, I recommend you do what I counsel my patients to do. Here are 4 of those tips:

1. Use meal replacements. Meal replacement products are the nutrition bars, shakes and frozen meals that are already calorie and portion controlled and - most importantly - they take the guess work out of calorie counting. Yes, they may be a bit more pricey than actually making home cooked meals and snacks, however, they are often much less expensive than eating out. I recommend that you always have some of these products on hand in your freezer or cupboard for those times when you're too busy to cook and you're looking to eat something healthy (and calorie controlled) on the run.

2. Don't upsize your order. Whether you're at the movies or the fast food drive-through, you're often confronted with "deals" that can save you money by upsizing your food order. Examples include: "For 25 cents extra, you can get a large popcorn instead of a medium," or "You can get the large fries and drink with your order for just a few cents more." Be prepared for these situations and practice saying, "No thank you!" Know that these money saving deals are bad for your health and only encourage you to overeat.



(Tip continues below)




3. Say yes to these foods. If you commit to eating more low-calorie, nutritious fruits and vegetables, you will naturally displace other, less healthy foods from your diet. As your portion sizes of these good-for-you foods increase, your portion sizes of the less healthy foods will decrease. At your next grocery shopping trip, fill your basket with more fruits and vegetables and less with the highly processed foods. If you need help finding tasty ways to prepare them, just contact our registered dietitian in the Rate My Plate premium member message board.

4. Soup's on. As the weather is turning colder, this is a good time to remind yourself to start eating more broth-based soups. Studies have shown that starting a meal with a broth-based soup will help you eat less at your meal. That's because the water content of the soup fills you up faster and helps you feel more satisfied. If you're looking for more soup recipes, just check out the Diet.com healthy recipes.

I hope these four tips will help you control your portion sizes in a positive and realistic manner.