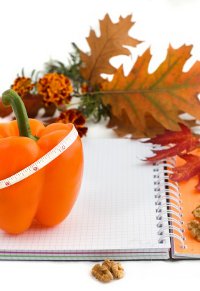 Keep up all of your hard work! Or, if you've fallen off your diet regimen, now's a great time to get back on program. It's a new season and there is no better day than today to revisit your dieting goals and strategies. Try these seasonal tips to help you stay in shape.

1. Figure out a fitness program for when it gets cold. Invest in a membership at the local gym, or take classes at a nearby YMCA.

2. Weed out old clothes. Sort out what you actually wear and donate the rest. Rid yourself of large clothes and get excited about your weight loss results!

3. Boost your immune system! Vitamin-rich foods like sweet potatoes, oranges, and red peppers will help keep you out of the doctor's office in cold weather.



(Tip continues below)




4. Clean out the refrigerator, freezer, and kitchen cupboards! Throw away junk food and items that are past their freshness date. Donate unwanted canned goods to charity.

5. Make new goals and resolutions with the onset of a new season. Write them down, set a date or timeframe in which you'd like to accomplish them, and don't forget your mini-goals!

6. Plant vegetables! Spinach, lettuce, turnips, and garlic all thrive in the cool weather and will yield a buffet of fresh food throughout the fall.

7. Add beans to your diet. Beans are a great fall vegetable and rich in protein. They add texture and flavor to soups and casseroles and can be used in a variety of recipes.