Episodes of mindless eating can prove to be a dieter's downfall.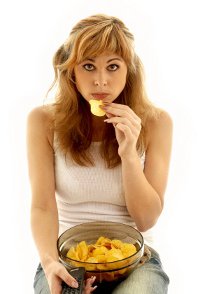 When you're not mindful of what and how much you're eating, you tend to overeat – and underestimate just what you have eaten.

A nibble of your daughter's leftover sandwich, a taste of cake in the break room at work and a few bites of those chips while standing in the kitchen can all add up to extra calories and weight gain.

Taking control doesn't mean giving up all the foods you love; it just means paying attention to small ways you can lessen your mindless eating episodes.

Here are some tips to guide you.

1. Sit before eating. A simple rule can help you take control. Commit to sitting down before eating anything. In the kitchen, this means no more eating while standing and cooking and no more downing a bag of chips while standing and talking on the phone. It's far too easy to mindlessly snack lots of calories away while standing. Sitting will help you be more mindful and pay more attention to what and how much you're eating.

2. Grab a plate. It's also important to portion out a serving of whatever you want to eat. Grabbing a plate will help you to do so. If you want some chips, put a certain portion on a plate, sit down and enjoy them. Rather than grabbing handfuls of grapes from the refrigerator, place some in a bowl. Taking the time to serve yourself is a reminder about the importance of portion control. This will encourage you to be more mindful when it comes to eating.



(Tip continues below)




3. Avoid desk nibbles. Because you spend so many hours at work and work can be stressful at times, your work environment can set you up for mindless eating episodes. You need a plan that involves not keeping unhealthy nibbles on your desk and avoiding nibbling off of your co-worker's desk. Commit to eating only while sitting in the break room. Identify temptations that lurk in the office and do what you need to do to decrease those temptations. You may need to change your route to the copy machine so as not to pass that tempting candy jar.

4. You bite it, you write it. Keeping a daily food log will help you be more aware of how often you eat, what you eat and the amount that you eat. Three meals a day and two planned snacks should satisfy your hunger. If you notice certain times when mindless eating typically occurs like during a business meeting, you can take action by sitting as far from the food as possible or planning one of your snacks for that time of day. Serve yourself a reasonable portion, sit down and enjoy!

I hope these four tips will help you lessen those mindless eating episodes and help you be more mindful in the process.