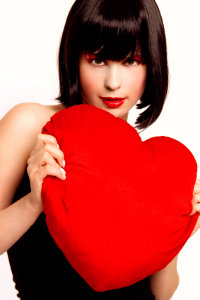 Valentine's Day is the day of commercialized love! If you've been lucky enough to have been struck by Cupid's arrow, you'll want to celebrate the day with your honey. Wondering how to maintain all your healthy habits while having fun this Valentine's Day? Follow these tips so you can gaze lovingly into the eyes of your healthy lifestyle... and invite your loved one to join you!

1. Go for a romantic walk. Holding hands while you walk doesn't burn extra calories, but getting your heart rates up will fill you both with a warm feeling. And taking a walk can be a great prequel to a romantic dinner. So put on your comfiest walking shoes and share a stroll with your special someone.

2. Cook a delicious (and healthy) meal. For cooking ideas that will leave you both breathless, check out the great healthy Recipes we've made available for you on Diet.com. Adding candles to the meal will not burn extra calories, but it just might spark the romantic mood!

3. Share a glass of red wine. Toast to your love and your health with a red wine that complements your meal. Heart-healthy and rich with antioxidants, red wine can add to the allure of your evening without adding too much to your daily calorie counter. And speaking of calories...

4. Make a little love! A workout in the bedroom beats a workout at the gym any day.

When it comes to Valentine's Day, you can't avoid the red hearts and lace trim thrust upon you by heartless marketing types. But you can incorporate the spirit of the holiday into your healthy routine. Follow these tips and you and your honey will be falling in love with your diet!