Here are five tips you can use today to make your home healthy-weight friendly.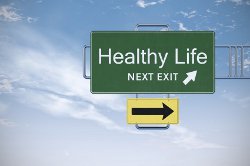 1) Remove sugary beverages from your home. For years, studies have linked soda consumption to weight gain due to the extra calories. Drinking the sugary beverage regularly can put you at increased risk for health problems such as obesity, heart disease, and diabetes. Instead, try keeping portion-control friendly natural juice boxes or bottled water in your refrigerator for on-the-go refreshment.

2) Keep the TV and computer in the family room, rather than the bedroom. Though your children might protest at first, taking the television set out of your child's bedroom can encourage more active family social activities so you can stay healthy together.

3) Post a weekly menu on your refrigerator. At the beginning of the week, plan meals and get the foods you need in advance so you're less likely to eat out at fast-food restaurants during the week.


(Tip continues below)



4) Put a set of free-weights next to your couch. Sneaking in an upper-body workout while watching TV is convenient when the weights are right there next to you. Try alternating bicep curls or lateral raises. Check out your exercise demos and fitness videos for instructions and other exercises ideas!

5) Invest in a bathroom scale to monitor your weight regularly. You can get basic scales for as low as $10 all the way to pricier versions that measure weight, body fat percentage, and other measurements. Remember to track your weigh-ins using Diet.com's Weight Tracker.

Set yourself up for successful weight loss by building a home that encourages healthy habits for you and your family. Remember to keep your weight goals fresh in your mind by posting little reminders around your environment. Embrace change and you'll see a healthy difference in no time!