6 easy ways to modify comfort foods: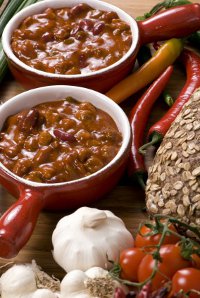 A few simple modifications can shave quite a few calories and fat off of a recipe without sacrificing the flavor.

1) Use lower-fat, lower-sodium cream soups such Healthy Request by Campbell's. And, mix with non-fat milk, if called for.

2) Use evaporated skim milk in place of cream and try healthier versions of mayonnaise and sour cream.

3) Swap white pasta and white rice for brown rice and whole wheat pasta.

4) Reduce the amount of cheese called for in the recipe by half.

5) Use leaner versions of meat, such as extra lean ground beef or turkey. Or, substitute chicken or turkey breast in place of beef.

6) Go veggie! Try a healthy vegetarian stew or all bean crockpot chili- veggies and beans are very filling!


(Tip continues below)