American businessman
1902–1984
Raymond Albert Kroc was born in Oak Park, Illinois, to Luis and Rose Kroc. He had two younger siblings, Robert and Lorraine. As a child, his mother called Ray "Danny Dreamer" because he would daydream all the time. Rose Kroc was a piano teacher, and she taught young Ray to play.
Kroc's first job was with his uncle, Earl Edmund Sweet, in a soda fountain the summer before he started high school. The next summer Ray dropped out of school, and he used the money he made the previous summer to rent a building with two friends. They sold sheet music and small instruments, but after a few months the business failed.
During World War I, Kroc lied about his age and became an ambulance driver for the Red Cross. He returned to Chicago after the war and held various jobs, including work as a jazz pianist and as a real-estate salesman. In the summer of 1919, Ray played in a band at Paw-Paw Lake, Michigan, where he met his future wife, Ethel Flemming. Ray and Ethel married in 1922, but only after he satisfied his father's requirement of getting a steady job—selling paper cups for the Lily Tulip Cup Company, where he worked for seventeen years.
In the early 1940s, Kroc became the exclusive distributor of a multimixer that could mix five milk shakes simultaneously. Two of his best customers were the McDonald brothers, Richard and Maurice (Mac), who bought eight of the mixers for their fast-food restaurants. The McDonalds had started with a group of hot-dog carts, and now had a chain of restaurants—for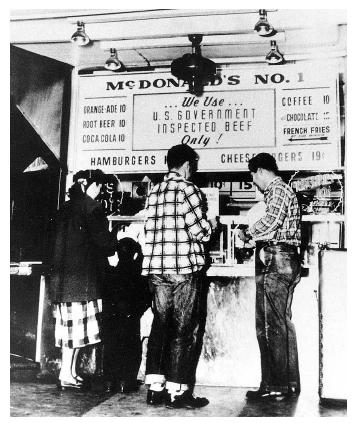 Customers line up at the very first McDonald's restaurant, which in 1954 inspired Ray A. Kroc to build a fast-food empire. Today there are more than 30,000 McDonald's restaurants worldwide. [AP/Wide World Photos. Reproduced by permission.]
which Richard McDonald designed the "golden arches" logo and the "number-of-hamburgers-sold" sign.
In 1954, Kroc went to San Bernardino, California, to see the McDonald brothers' restaurant, which used an assembly-line format to prepare foods. Kroc decided to set up a chain of drive-in restaurants based on the McDonalds' format and convinced the brothers to sell him the rights to franchise McDonald's restaurants nationwide. His first restaurant opened on April 15, 1955, in Des Plaines, Illinois. Kroc also began selling franchises on the condition that the owners managed their restaurants. Kroc was known for his obsessive cleanliness, and he wanted the restaurants kept very clean. In 1961, Kroc bought out the McDonald brothers for $2,700,000. At this time he had established 228 restaurants, and sales had reached $37,000,000. By 1963 more than 1 billion hamburgers had been sold.
Kroc served as the company's president from 1955 to 1968, as chairman of the board from 1968 to 1977, and as a senior chairman from 1977 until his death. He also was the owner of the San Diego Padres professional baseball team. Kroc died on January 14, 1984, in San Diego, California. He is remembered as a pioneer in the fast-food industry, and was named as one of Time magazine's "Builders and Titans" of the twentieth century.
Bibliography
Kroc, Raymond, A. (1977). Grinding It Out. Chicago, IL: Contemporary Books.
Schlosser, Eric (2001). Fast Food Nation: The Dark Side of the All-American Meal. New York: Houghton Mifflin.
Internet Resources
Britannica.com (2001). "Kroc, Ray." Available from <http://www.britannica.com>
Pepin, Jacques. (2000). "Ray Kroc." Available from <http://www.time.com/time>