Night time snackers tend to eat more at night than during the day. They consume more than 50% of their daily calories from dinner time onward into the evening.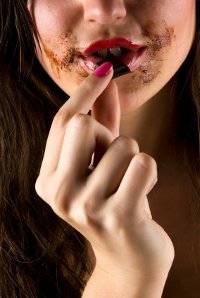 By eating less during the day, we may feel that we are preserving calories; therefore we give ourselves permission to binge at night. A main reason this plan fails is simply because the longer you are active, the more calories your body is burning and the more it starts craving fuel. By dinner time you will feel tired, light headed and extremely hungry.

By consuming most of your calories in one sitting you are at risk of overeating. Skipping breakfast and lunch, does not give you a free pass to over indulge at dinner! It is possible to exceed your daily calorie intake just in that late night meal and/or snack alone! So next time you decide to skip lunch in preparation for that big dinner party think again!

Here are some solutions to stop your night time eating habits.

1. To break your habit, it is important to establish why you find yourself eating at night. Is it because you have a job that prevents you from taking the time to eating regular meals? Do you feel guilty for eating too much the night before? Maybe it is simply because you have successfully convinced your body to not feel hungry during the day. Whatever the reason is, an unbalanced eating habit will cause harm to your body. You may gain weight by taking in too many calories and you may disturb your digestive system by going to sleep on a full stomach.

2. Taking steps like closing your kitchen after 8 p.m. or keeping snacks around to nibble on during the day can help make a big difference.



(Tip continues below)




3. Eating a big breakfast before you start your day can help if you have a busy afternoon schedule and your lunch time is limited. For a quick but filling lunch, try a protein shake or a sandwich that you prepared ahead of time. Also, having bottles of water available and fresh fruit in your fridge can help, if you still can't resist your urge to eat at night.

4. It may also be hard if you have family members or friends with the same habit. Try tackling night time eating together! Instead of bonding over a plate of macaroni and cheese, try playing a board game, or take a walk to help you settle down for the night.

5. Track the number of calories that you eat and when you eat them. On average, meals should be around 300-500 calories and snacks should range from 100-200 calories. By keeping track of how many calories you consume, can help rationalize your portion sizes and prevent yourself from eating too much at dinner or eating too many snacks afterward.

Along with these tips, it is important to find solutions that you will be able to commit to. Remember, the goal is stop eating at night and start eating right!