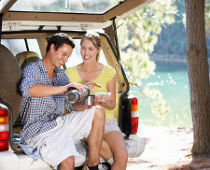 Are you planning to go on a road trip anytime soon? Road trips are great because they involve good quality time with friends or family. And you get to see the beautiful countryside all the while singing at the top of your lungs to your favorite old songs. As fun as this sounds, road trips are also prime times to stray from a healthy diet. It's easy to live off of candy bars and fast food. Just a little planning, however, can help you eat well while on the road.

Here are some tips for those long road trips:

1. Pack plenty of snacks! This is almost as important as packing your clothes and gear. If you are going to be in a car for long hours, your body will need to refuel regularly. The tendency when it comes to packing snacks for a vacation, however, is to pack foods you wouldn't normally eat at home. It's the vacation-splurge mentality. Fight the urge to splurge and pack a cooler full of tasty but healthy snacks instead. In an ideal world, I would equip my cooler with water, Gatorade, apples, bags of trail mix, string cheese, grapes, watermelon cubes, carrot sticks, pretzels, rice cakes, hummus and whole grain crackers, and one candy bar per person. This way, when you are filling the car up with gas you won't be as tempted to go into the store and buy Ring-Dings or a large bag of Doritos.



(Tip continues below)



2. As far as meals go, relying on fast food from a rest station or the random diner on the side of the road might not yield the best food choices, but they may be all you've got. Luckily, there are healthier options when you go. Sticking with salads is always a safe bet, and try to get oil and vinegar for dressing wherever possible. Get grilled chicken as opposed to fried chicken and a baked potato over french fries. Try a feta and spinach omelet over the pancake special.

3. Lastly, make sure you stop often to get out and move around. Fresh air is great for the lungs and who wants to get leg cramps? Also, experts say that riding in the car for hours can cause deep-vein thrombosis, or excessive blood clotting in the veins and arteries. Hopefully that's motivation enough to make rest stops often.