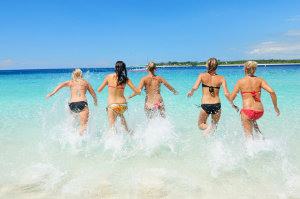 Whether it's for 3 days or 3 weeks, we cherish that time when we have no other worries besides what sandals we should wear to the beach or which trail to meander along at the national park. Inevitably, most vacations involve a sky's the limit attitude… anything goes, especially when it comes to eating and drinking. If you are watching your weight, though, this can lead to quite a set-back. We tend to over-use the "Who cares, I'm on vacation" line when it comes to food and drinks more than anything. But who wants to turn into a complete blob because of vacation!

Here are a few ideas on how to curb that no limit attitude to include some parameters:

1. Plan ahead and pack some healthy snacks for the plane or car ride. Pack some Clif or pria bars, trail mix, rice cakes, dried fruit, or low-fat popcorn. That way, when you pass a McDonald's or the flight attendant comes around with that calorie-loaded snack pack, you'll full enough to say no thanks.

2. Beware of the hotel minibar! This very convenient, very pricey amenity can also be very unhealthy. Candy bars, salty pretzels, and soda, oh my!



(Tip continues below)



3. This next idea is one you will probably laugh at (understandably so): for all you fellow drinkers out there, try to cut down on how many alcoholic beverages you consume at the bar, around the campfire, on the beach, or with meals. Seriously guys! Your favorite Kamikaze shot has around 150 calories. Your average 12 oz beer has 146. Wasting away again in Margaritaville? Consider this: a margarita has about 250 calories. So enjoy a drink or two or five, but don't go too crazy every night of vacation… you might see your mid-section change for the worse.

4. When it comes to dining out, if you want something, have it! You are on vacation after all. Keep portion control in mind and try to pick and choose. If you want wine with dinner, order it. But then pass on the bread. Get dessert—but split it with your friend. Take the other half of your turkey club to go. Ask your waitress for an appetizer portion of a meal, instead of the entrée-size.

5. Get some exercise! Golf, hike, bike, swim, go clubbing, play tennis, climb some stairs, bungee jump! Anything! In the case of exercise, the sky can be the limit on vacation. Wherever you are, try to get out of that hotel, motel, tent, or RV to get moving!

If you are taking a vacation soon, enjoy! Drink plenty of water! Best of luck in making healthy eating, drinking, and exercising decisions!