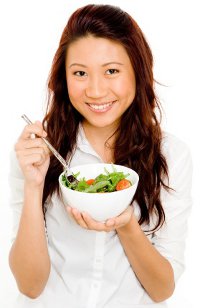 Fresh fruits and vegetables are now in abundance and tasting their best. So, it might not be a surprise if you're craving a fresh fruit or veggie salad. While this can definitely be a good thing, a salad can also be a Diet Don't. Salads that are loaded with fatty toppings and drowning in dressing are no better for you than a cheeseburger. Read on for healthy salad-building tips, and toss one up tonight!

1) Start with greens: Salad greens are a good source of vitamins and minerals, including folate, vitamin C and beta-carotene. Choose darker greens for more nutritional bang.

2) Add in more color with veggies and fruit: Mixing in veggies and fruit is a great way to add color, taste and texture. Extra produce also adds additional vitamins, minerals and fiber.
Fun veggies: bell peppers, tomatoes, celery, carrots, snow peas, broccoli, cauliflower, beets, artichoke hearts and jicama


Fun fruit: berries, pineapple, apples, pears, oranges and grapes



(Tip continues below)



3) Pile on the Protein: Protein gives your salad that extra oomph! to keep you fuller longer.
Beans: kidney beans, garbanzo beans, edamame or black beans


Lean meats: tuna, lean ham, turkey or chicken strips


Vegetarian protein: tofu cubes, low-fat cottage cheese, hard boiled eggs or cooked tempeh

4) Go Nuts: Nuts contain mostly heart-healthy monounsaturated and polyunsaturated fats instead of saturated fats. Sprinkle on: flaxseed, pumpkin seeds, sunflower seeds, sliced almonds or toasted walnuts.

5) Beware of hidden fats: Avoid salad toppings that are filled with saturated fat. Go easy on the croutons, bacon, cheese, creamy mixed salads and fried tortilla chips.

6) Dress for success: Some dressings significantly increase the fat and calorie content. This can turn a healthy salad into a high fat, high calorie disaster. Choose wisely! Look for salad dressing that are "light" or "low-fat", but still read labels. Aim for a dressing with less than 7 grams fat per serving. To get more coverage, measure out dressing and toss!