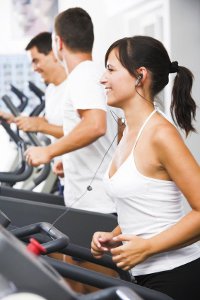 Whether you use it at home or in the gym, the treadmill can be used for low-impact walking or high-intensity jogging. Either way, chances are you are bored with your treadmill workout but you aren't sure how to switch it up. To actually benefit from our treadmill workouts, we need to add some variety into our walk, jog, or run. So shake it up!

Here are a few tips on giving your treadmill workout, and thus your metabolism, a boost!

• Try alternating speeds and inclines. If you always walk at 3.5 miles per hour at an incline of 0, try walking at various speeds on an incline of 1 or 2. This will give your body something to work at. If you jog at 6 or 7 miles per hour at zero incline, try running faster for a minute then slowing down to a slow jog at an incline of 1.
• Try walking backwards on the machine at an easy pace.



(Tip continues below)



• Begin by walking or running for five minutes, and then step off the treadmill and do one minute of crunches, push-ups, lunges, and any other exercises that appeal to you, and then back on again and repeat until you have exercised for your usual length of time.
• Put high-energy songs on your mp3 player to keep you pumped throughout your walk or jog.
• After walking or running for ten minutes, step off and do ten minutes of stretching or weight training and then back on again, and repeat as desired.
• Light some candles, burn some incense and turn on spa music to walk off your stress.
• This next one is only for the very bold: Walk or run in the nude… which you could probably only do if you have on at home. Your gym wouldn't allow it, I'm pretty sure (make sure the curtains are closed).

Remember, though, exercise should be fun, not torture. Never over-do it!