If you want to lose weight and eat healthier this year, one strategy is to take a new look at your kitchen - specifically what's in your refrigerator.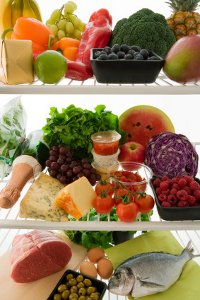 Your refrigerator can give you clues as to the type of diet you are following. When you open your fridge door, take note of the types of foods lining the shelves and sitting in drawers.

Based upon your assessment, you can start to tweak your diet and the choices you make during your grocery shopping trips.

Here are some tips to help you:

1. Note grab and go portions. Take note of grab and go portion sizes of low fat yogurt, cottage cheese, string cheese and pudding cups, to name some common foods that can help you stay on program. Does your vegetable drawer contain large carrots that need chopping or mini carrots that make a quick grab and go snack or lunch accompaniment? Though the larger food sizes may save you money, the small containers save you prep time and take the guesswork out of calorie counting; they can also save money in the long run as you'll be more tempted to bring lunch from home and eat less take out food.

2. Pinpoint colorful produce. The most colorful foods staring back at you should be the produce you select and keep in your refrigerator for salads, vegetable sides or stir-fry dishes: green (broccoli, string beans, arugula), red (peppers, onions, apples), yellow (pineapple, grapefruit) and blue (blueberries). What colors do you see in your refrigerator? If the colors are bland and white (potatoes), now's the time to add some colorful produce to your shopping list.



(Tip continues below)




3. Look at liquids. The calories you drink can either help or hurt your diet program. Bottled waters, a Brita water pitcher or low-calorie flavored waters will keep you hydrated without adding unnecessary calories. Sugary sodas offer you empty calories that just add to your waistline without adding anything positive to your overall nutritional status. Though fruit juice can be consumed in moderate portions, it's always better to eat the whole fruit instead. If you see lots of diet sodas, it's a good time to remind yourself that moderation counts here, too, as too much diet soda has been linked to an increased craving for sweet foods.

4. Survey leftovers. Leftovers can make a quick lunch on the run or can offer you another dinner meal idea. Know that grilled or roasted meats or vegetables can be a great topping for a lunch or dinnertime entree salad. Bean filled soups or chilies offer you higher fiber foods that can be enjoyed on another day. If you're seeing fried foods, processed or fatty meats or dishes with cream sauces, you can be sure that these high calorie options are not going to help you lose weight this year. If you're looking for more healthy meal ideas, check out the many Diet.com Recipes that are easy to prepare, calorie controlled and good for your overall health.