Party celebrations don't have to derail your best efforts toward healthy eating.

In fact, the terms "healthy eating" and the "holidays" don't have to be mutually exclusive; they can actually go together!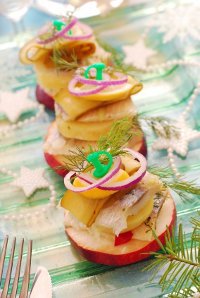 The weight loss and nutrition community knows very well the specific strategies that can help you fight the creep of weight gain that's so common at this time of year:

1. Grab for gifts only. Over the holidays, feel free to put your hands in the gift grab bag but don't go grabbing food out of bags or bowls. Instead, place a serving of all foods on a plate - even those munchy foods like nuts and popcorn. This will help you stay in control of both your portion size and calorie intake.

2. Write about it. Holiday time is a great time to write holiday cards and thank you notes to friends and family. Writing is also a great weight management tool. If you bite it, you write it. Keep a small pad of paper and pen in your purse or briefcase. Just knowing you will keep a record of your eating will help you stay on track.



(Tip continues below)




3. Make a stress bag. You want to prepare for the emotional eating that the holidays bring. Before the holidays begin, make a "stress" bag filled with objects to remind you of non-food related activities you can do when stressed. Fill that bag with Fido's leash (lift your spirits by taking a brisk walk with your pooch), favorite music CD's to listen to, a stress ball to hold and squeeze, pictures of special friends (as reminders to call them) and a small journal that you can write in.

4. Downsize your party plate. Know that whatever food you put on your plate will probably get eaten. So take a small plate and take small portions of your favorite foods like that yummy cake by cutting slivers the width of your finger. Eat slowly and enjoy.