Sticking to a healthy diet will be easier if you're savvy about using leftovers to make the next day's meals or snacks.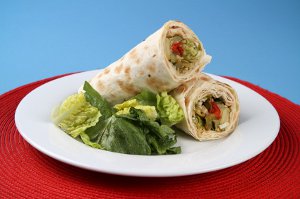 Using leftovers can be a great timesaving diet tip. The key is to plan ahead by making extras and then using those extras to create new dishes.

Here are some ways to follow this strategy:

1. It's a wrap! Chili can be a fast meal you can make in minutes. Leftover chili can be mixed into a wrap and then sprinkled with some low fat cheese for the next day's tasty meal. Other dinner ideas that can be served in a wrap are leftover barbecued chicken, tuna salad or even roasted veggies for a vegetarian option. The next time you go shopping, check out the many healthy, high fiber wraps available.

2. Go stir crazy. Recently we made dinner using a container of leftover rice from Chinese take out. We stir fried broccoli, scallions and baby carrots, scrambled egg and topped with nuts to make a vegetarian fried rice dish. When cooking at home, commit to making extra brown rice or pasta for your night's meal and then use those grains in a stir-fry dish for the next evening's meal. Leftover or rotisserie chicken can be added to any stir-fry for a quick dinner meal.



(Tip continues below)




3. Make salad toppers. Leftover fish, chicken or lean meat can make a great topping for your next day's entrée salad meal. We also turn to leftover roasted potatoes, roasted vegetables or even couscous for other salad topping ideas. Salads are an easy way to eat multiple vegetable servings. And if you use a light vinaigrette dressing and go light on the cheese, this can also be delicious, calorie controlled dinner meal.

4. Scramble it. If you have any shredded light cheese left over from a previous meal, consider adding it to scrambled eggs and serving alongside some salsa. Leftover veggies can also be added to make a vegetarian omelet. Having breakfast food for dinner offers you light dinner meal ideas that can be assembled in minutes. Serving with baked beans on the side and cut up fruit can also be a nice change of pace.

I hope these four tips will give you new diet tips for using leftovers to help you create quick, healthy meals – especially when time is short.