A research study published in the Archives of Internal Medicine finds that 4 common bad habits (smoking, drinking too much, inactivity and a poor diet) can age you by 12 years and increase your risk of dying prematurely.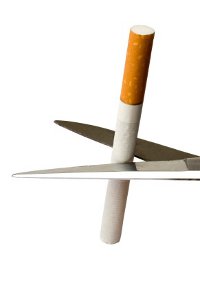 This is a good reminder that as you're trying to lose weight, you have more reasons to follow the healthy lifestyle strategies outlined on Diet.com.

Yes, you can do it for your waistline - but also do it to appear and feel younger and live longer too.

Here is a review of ways to take control of the 4 key habits:

1. Smoking. Set a quit date for yourself and let others know of your intentions. Talk to your health professional about trying some of the stop smoking medications on the market. Consider joining a stop smoking group to get support. To find groups in your area, call your local hospital or check with the American Lung Association. The American Lung Association has a Freedom from Smoking self help online program in addition to a group program. Contact them now - you don't have to go it alone.

2. Drinking too much. Taking control of a drinking habit requires first admitting that you are drinking too much. But how do you know? You can check out alcoholscreening.org (a project of the Boston University School of Public Health) to take a free screening test, get personalized feedback and even a referral for help if you do have a problem. Since 2001 when this site was launched, over 1 million people have completed the screening and received scientifically based feedback on their drinking habit. Again, help is available – just a click away.



(Tip continues below)




3. Inactivity. As we age, the studies are clear that we need to move our bodies more to fight the slower metabolism and weight gain that can occur. In fact, one new study showed that women in menopause who walked briskly for one hour a day did not gain the "expected" extra weight so many women experience. Though one hour may seem like a lot, remember that this time can be broken up into smaller segments. By parking your car farther away from your office, you can get in a 10 minute walk in the morning, another 10 minute walk back to your car at the end of your work day, then make time for a 20 minute walk after lunch and another 20 minutes after dinner. Without having to jump on a treadmill or drive to a gym, you can keep your body vibrant and better manage your weight.

4. Poor diet. You make so many food choices every day that can either boost your health or drain it. Instead of deciding to be that perfect eater, commit to making progress toward choosing the healthy foods that can boost your health. Fruits, vegetables, beans, whole grains, lean protein and healthy fats should be your focus. Now's the time to limit your intake of fried foods, high fat sauces, fatty meats, sugary drinks and highly processed sweets and snack foods. Taking these steps will help manage your weight and your health long term.