It's time to commit to a new you. But just how committed are you?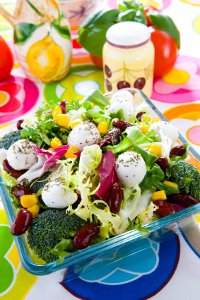 If you really want to reinvent yourself, then it's time to step outside your comfort zone and try some new things.

We're not saying you should all of a sudden become a strict vegetarian or an avid jogger. Instead, there are small ways you can challenge yourself to help boost weight loss.

Here are some tips to guide you:

1. Try meatless. Studies have shown that people who eat more meatless meals seem to be healthier and have an easier time managing their weight than people who eat meat regularly. Instead of meat-based meals, try some other tasty options like veggie chili, bean soups, veggie burgers (there are many good tasting varieties) or whole wheat pasta with veggies.

Tip: When checking out the various vegetarian burgers (like Boca), the best-tasting ones are the ones with the most fat. It may seem counterintuitive to eat the ones with the most fat but they're still calorie controlled and the truth is – if the taste isn't good, you won't enjoy it and won't go back for more. Another tip: top your veggie burgers with grilled onions or mushrooms, sliced tomatoes, lettuce and barbecue sauce. Enjoy!

2. Excite your salads and veggies. Many dieters get caught in a salad and vegetable rut. They stick to a few safe vegetables and toppings for their salads. It's time to look at different healthy recipes and venture outside your comfort zone to try new things. Try topping your salads with roasted slivered almonds (just toast your nuts in an oven for a few minutes), hearts of palm, a small amount of Gorgonzola cheese and orange or apple slices. You could even top your salads with leftovers from the night before like a leftover couscous salad or stir fry veggies and tofu dish.

You also need to learn how to roast different veggies like eggplant, Brussels sprouts, red and orange peppers, green beans or asparagus – to name a few. Spray the cut-up veggies with cooking spray and season them with your favorite seasonings, then place them in a 450 degree oven and cook till they soften. You can often add these as great-tasting toppings to your salads.



(Tip continues below)




3. Be budget-minded about exercise. If you've already joined a health club and have committed to working out at a gym, that's a great way to start your exercise routine. But it's not the only way! If you're looking for a budget-friendly way to stimulate your exercise program, consider buying an inexpensive tool like a pedometer, exercise bands, an exercise ball or - how about renting some exercise videos from your local library? Any of these new exercise tools can be a good way to give your exercise program a boost – and without a large financial investment.

4. Find fun. Studies have also shown that if you're having fun doing whatever kind of exercise you've chosen, you'll be more likely to continue doing it for the long term. This is a good time to check out classes in your community or near your workplace and see what interests you. Is there a fun dance class that you would enjoy? Or what about a strength training class for beginners? Are you interested in taking a healthy cooking class in your neighborhood? Try buddying up with a friend to make yourself more accountable by following through and attending the entire series of classes.