Let's review some ways you can organize your diet life to help make losing weight easier.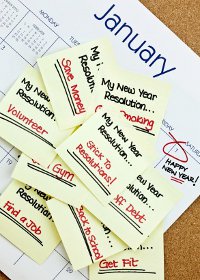 When end-of-the-year holiday parties are behind you and a new year is in front of you, you may have more time on your hands and be more apt to follow through on these suggestions.

Here are some tips to guide you:

1. Set up a system for keeping a grocery list. One of the most important steps in a diet program is to make sure you have healthy foods in your home. Instead of finding yourself in a grocery store without a list in hand, commit to putting in place a system for keeping track of the healthy foods needed for the week ahead. By keeping post-its on your kitchen counter, you can have your running tally of the foods needed to keep you on the healthy weight loss track. If you need new ideas for quick dinner meals or easy snacks, check out the Diet.com recipes section or feel free to ask the Diet.com registered dietitian to assist you. Just send her an email or post your questions in the Rate My Plate message board.



(Tip continues below)




2. Identify your own support team. This is the year when you don't have to go it alone. As a member of Diet.com, you have a complete support community to help you in your weight loss journey. By reaching out to your fellow diet buddies, blogging about your journey, or contacting the Diet.com expert team, you will have access to people who want to help you succeed. Whether you want a cheerleader, a problem solver or just a sounding board, we're here to help you overcome the obstacles in your way. Jot down reminders in your calendar to log onto Diet.com at a minimum of weekly and experience the benefits of being a part of a supportive community of fellow dieters.

3. Step on the scale weekly. Think about what happens when you lose your diet motivation or start feeling like a failure. More likely than not, you stop weighing yourself. In contrast, try committing to stepping on the scale on a weekly basis as a way to remind yourself that you're serious about wanting to lose weight. There's no reason why you can't start doing so in January and continuing till the end of the year! Following this simple strategy will keep you aware and will prompt you to get help if you stop losing weight - or if you start gaining! When following a healthy weight loss program, you can expect to take a few steps forward and a few back. This is to be expected. Rather than throw in the towel if you do veer off program, try reaching out to a Diet.com buddy to give you the support you need to jump right back in and re-focus.