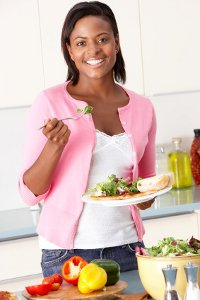 When you want to lose weight, there are some easy things you can do to trick your tummy and settle your mind so you can stick with your diet program without feeling like you're depriving yourself.

These tips and tricks don't require a huge overhaul of your lifestyle.

Instead, with just a little planning ahead, you can use the following easy-peasy strategies to give your weight loss program a boost:

1. Downsize tableware. Researchers have shown that by downsizing your plates, bowls and cups, you can downsize your portions and cut your calories while still enjoying some of your favorite foods. Large portion sizes are a huge factor in causing weight gain and inhibiting weight loss. Taking control can be as easy as choosing a smaller wine glass, a smaller cereal bowl and an 8 inch instead of a 12 inch dinner plate.

2. Clear your counters. What you see in your environment can cause you to eat more calories than you intended. It's just a fact of human nature that if you have candy in dishes around your home or leftover cookies or brownies on the counter, you will be more likely to eat these higher calorie foods. Whether it's your desk at work or in your home office, commit to clearing it of any tempting, unhealthy foods.



(Tip continues below)




3. Make healthy foods visible. If you're trying to eat healthier this holiday season, it's important to have good-for-you foods that are easy to see and easy to grab. This takes just a few minutes of planning ahead. Make apples, oranges or berries easily visible on an eye-level shelf in the refrigerator. Cherry tomatoes, baby carrots and cucumber slices can be washed and put into baggies, ready to add to your lunch bag for work. And remember that if the fruit and vegetables are next to the cheesecake, there will be less of a chance for you to stay on program.

4. Travel smart. It's a good idea to keep some healthy snack foods or even meal replacement bars with you when traveling in airports or by car in the weeks ahead. A Luna bar, banana or bag of pretzels can fill in for a planned snack, and a meal replacement bar can fill you up for a quick meal on the run. This will save you money and calories in the long run as you won't have to depend on buying airport food or stopping at the nearest fast food restaurant.

I hope these four little tricks will help you control your portion sizes and make better diet choices in the weeks ahead!