If you're looking for something totally different from your typical cardio workout, you have to check out this video Sarah and I shot for you.
It's called the 5 Minute Cardio Workout and it takes fat burning to a whole new level!
And if you're from a cold weather climate like I am, it's a great way to beat the cold and get your cardio work done indoors.
Here's how the 5 Minute Cardio Workout works:
1. Just grab a band of medium to heavy tension and attach it to a fixed object at waist height
2. Slide into the band opening and place the band around your waist (right above the hips)
3. Sprint out 5 steps as fast as you can
4. Decelerate backwards to the starting position
5. Repeat for 10-15 reps
I explain the entire rest period and interval work right in this quick video:
The 5 Minute Cardio Workout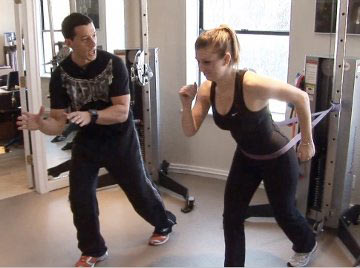 This is one of my favorite ways to add in a fat burning interval at the end of one of my clients' workout programs.
Click here for Stephen's Award Winning Weight Loss System!
Committed to your success,
Stephen Cabral, CSCS, CPT, NS
Author of Fatlossity, Lose5in7 Weight loss System
Health Consultant for MTV, NutritionData, Diet.com, Gather, Edge
http://StephenCabral.com
http://Lose5in7.com