In an attempt at more sustainable and greener living, I've been working on creating a backyard garden. I have to admit I didn't do much planning or research this spring, and just started planting various herbs and veggies (along with some organic compost) in different areas of the garden. I figured if nothing more, it would be a fun outdoor experiment! To my pleasant surprise, my efforts were rewarded with quite a plentiful harvest.
I had an especially bountiful crop of cherry tomatoes this year, and I've been trying to devise fun ways to use all those little fruits (yup, tomatoes are technically considered fruits, not vegetables). They're great tossed into salads or dipped into hummus or low fat dressing, but I was looking for something a bit more creative. I did a bit of searching and found this recipe at Epicurious.com. It looked really good, so I decided to give it a try. I made a few adjustments, such as cutting back on the oil and subbing a bit of white wine for some of the lemon juice, to keep the calories in check and maximize the flavor.
Ingredients: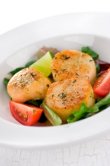 1 1/2 pounds large sea scallops, rinsed and dried
Coarse kosher salt, to taste
Fresh ground black pepper, to taste
2 tablespoons extra-virgin olive oil, divided
4 large green onions, chopped, white and green parts separated
2 cups cherry tomatoes
4 tablespoons fresh parsley, coarsely chopped, divided
2 tablespoons fresh lemon juice
2 tablespoons dry white wine
1/2 teaspoon paprika
Crushed red pepper flakes (optional)- I like a bit of a spicy kick!
Directions:

Sprinkle scallops with a bit of salt and pepper. Heat 1 tablespoon oil in large skillet over medium-high heat. Add scallops; sauté until browned outside and just opaque in center, about 2 minutes per side. Transfer scallops to plate and cover. Add remaining 1 tablespoon of oil to same skillet; add white parts of green onions and sauté until almost tender, about 1 minute. Add tomatoes and green parts of onions and wine, sauté until tomatoes begin to burst and release juices, about 5 minutes. Stir in 3 tablespoons parsley, lemon juice, and paprika. Return scallops and any accumulated juices to skillet and stir just until heated through, about 1 minute. Season with salt, black pepper, and red pepper flakes (if using). Transfer scallop mixture to platter. Sprinkle with 1 tablespoon chopped fresh parsley. Makes 4 servings, about 1 cup each.
Nutrient Analysis (per 1 cup serving):

235 Calories
8 g Fat (0 g trans, 1 g sat, 4 g mono)
55 mg Cholesterol
405 mg Sodium
9 g Carbohydrate
1 g Fiber
29 g Protein
Good source of Vitamin A, Vitamin C, Vitamin B12, Magnesium and Selenium.
This is delicious served over whole wheat pasta or alongside a green salad with fresh Italian bread. Try it out and tell me what you think! As always, I love getting feedback or hearing anyone's comments or suggestions.