If I had to think of one major muscle group most people neglect (mostly by accident), it would be the glutes.
So why is it so IMPORTANT to target your "butt" muscles?
The reason is that your Gluteus Maximus is the largest muscle in your body and therefore,
that area is extremely METABOLIC!
If you activate the glute muscles properly before a workout you will be more apt to strengthen, tone, and tighten that area which leads to better overall body shaping results.
I'm going to show you two of my favorite exercises to do in your warm-up (or on their own) to fire the glutes and in turn get them to be more active (and burn more calories) during your other exercises.
But, before I do
I want to make a really important point:
Most people neglect to work their glutes when they're doing cardio or even walking. This is why as the years pass your glutes begin to lose shape and start to sag a little.
And nobody wants a saggy butt ;)
The best way to prevent this from happening is
to do specific resistance exercises like squats, deadlifts, lunges, and step-ups, as well as concentrating on firing them while doing cardio.
To fire them all you need to do is concentrate on squeezing the glute of the back leg when you're striding or pushing forward while walking, jogging, or running. This squeeze will contract the gluteal muscles of that back leg and propel you forward.
It's amazing how using this little trick will have you
walking or running faster even if you don't change anything else!
So now that you know how to activate those muscles by concentrating on squeezing them during your walking and cardio, let's move on to how to specifically target them in your resistance workouts.
Here are the two glute toning exercises I recommend:

Exercise #1: Bird Dog

Exercise #2: Donkey Kicks
Complete 15 repetitions on each side for these two exercises and try to do both exercises back to back. Also, if you're doing this before one of my Fatlossity, Lose5in7 Workouts you only need to do 1 set.
However, if you're making this its own glute workout you can repeat these 2 exercises for 3 total sets.
Check out a video demonstration of the two moves below:
Gym Free Glute Shape Up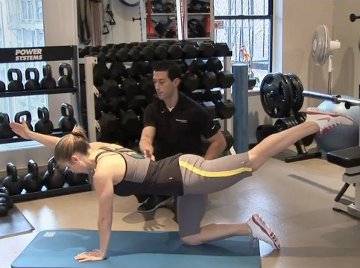 Remember, in order for your body to be in proper alignment and for your metabolism to be firing on all cylinders you really need to be focused on using your largest muscle in more of your exercises!
Click here for my video on How Lose 5 Pounds in Less than a Week!
Committed to your success,
Stephen Cabral, CSCS, CPT, NS
Voted "2011 Personal Trainer of the Year"
Author of Fatlossity, Lose5in7 Weight Loss System
Health Consultant for MTV, Men's Health, Women's Day, NutritionData, Dietcom, SELF
http://StephenCabral.com