The top body transformation experts and research studies have confirmed that there are
certain key factors that you must follow
in order to successfully reshape your body.
All of these 7 factors are now believed to not only help you lose weight, but also keep you healthy and prevent disease.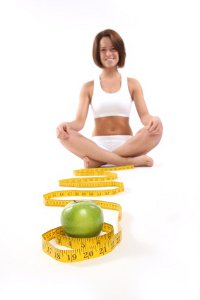 Imagine that...
One of the things I always tell my clients is that our first step to helping you transform your body should be to get you as healthy as possible. The reason is that when your body is balanced it sheds body fat at a rapid rate.
When you think about this it just makes sense since the unhealthier your body is the more toxins have accumulated in your tissues. This also means that when you're holding onto fat and toxins you're going to be bloated more often and feel tired and run down.
The good news is that you don't have to try to get healthy before losing weight, or vice versa...
The two go hand in hand, and if you're following a natural and safe body transformation system you will increase your health, energy, and weight loss all at once!
The best part is that most people will lose 3-5 pounds their first week and then go on to lose about 1% of their total body weight per week. (Some people lose a lot more weight if they're holding more toxins or body fat)
So now let's get into the 7 powerful success tips that you can model to achieve the body you want:
1. Sleep
Studies have consistently shown that if you are sleep deprived you are less likely to lose weight and keep it off. You are also more inclined to give into carbohydrate heavy food temptations (most likely because your body is looking for a quick and easy source of energy to get you through the next few hours). Aim for 7-8 hours of sleep per night.
(Source: Kaiser Permanente Center for Health Research in Portland, Oregon)
2. Nutrition
Of course we know that nutrition is key to losing weight, but it's not just about dropping your calories... Begin to increase your intake of alkaline foods beginning with eating more vegetables at each meal. This will decrease the amount of inflammation in your body, help decrease cortisol levels, and naturally help you rebalance your body.
3. Stress
I know it seems like you have no control over the stress in your life, but after reading piles of research on how stress inhibits your weight loss (and health) goals it's important you begin to
gain some control over your emotions towards stress
.
It's easier said than done, but stress is ultimately just your own response to a stimulus in your environment. This is why we see different people get stressed out by different situations. Learn to control your reaction to stressful situations through meditation, breathing,
Continue