A few years ago I decided to become a vegetarian. It was not a dramatic event by any means. Truth is I am and have always been an animal rights advocate and environmentalist. It just happened to be a week in my life when it was easier to make pasta, salad and tofu dishes than cook an actual meat. At the end of the week I thought, "Huh, I went a week without meat or chicken... wonder if I could do 2?" And so a vegetarian was born!
It's not to say that in the past several years there have not been challenging situations and I needed to cultivate a love for seafood... but the most challenging part for me has been to maintain a healthy level of protein consistently to stay as active in the gym as I am and to be able to achieve my fitness goals. So I am always on the lookout for new and creative(tasty is a must, let's be honest) recipes that not only fit my lifestyle but make me drool a little. I am a definite foody and I love to eat so if it's not good... it's not for me!
So when I saw this recipe, it was game on...
Seitan Fajitas with Avocado Cream Sauce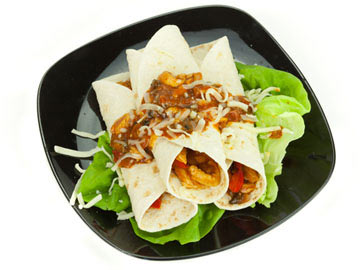 For those of you who are new to meat alternative foods, Seitan is a wheat-based meat substitute, high in protein and low in fat. By themselves, meat substitutes are generally, for lack of a better term, flavorless... but they work like little flavor picker uppers and when you brown them, sauté them and cook them with other herbs, spices, broth or olive oil, they take on a tremendous amount of flavor. I love Southwest and Mexican foods... and avocado cream is like ringing a dinner bell. This recipe was great and frankly a piece of cake to make. Let's face it, I love food... but master in the kitchen... well, let's say I'm still in training.
These meatless fajitas were a great alternative to my usual pre-gym lunch time meal. They were an excellent source of protein, light in calories and huge on yummy taste. I paired it with a small side salad, mesclun greens, plum tomatoes, faux bacon for some crunch and a little lime vinaigrette. Throw some fresh cut limes in ice water and ta-da - gourmet meal and gym prep friendly!
Discovering new and exciting recipes, snack suggestions and healthy meals helps keep me from tiring of the same routine day in and out. Finding new and exciting foods that I can work into your healthy lifestyle is all part of the journey to be our best selves. So... Bon Appetite and be well!