Ever wonder how to get such a smooth, toned back that even the tightest bra wonít show every detail? Tanks, backless shirts, dresses and all stylish tops always look better when you have a toned back.
But how do you target those muscles? Most women forget to work this when they hit the gym or workout at home. If you do squats, push-ups, bicep curls, tricep extensions, sit-ups, hamstring curls and cardio you are still missing the entire back!!
This is why it is so important to have muscle symmetry and balance. Not working those back muscles will also cause tightness in the chest, affecting your stance, your neck, your flexibility and posture. No one looks twice at a woman slouched over... even in the sexiest dress!
Improve your posture, tone your back, prevent injury and be strong with these 5 toning tricks for your back!
Perform 10-20 of each, 2-3 sets.
*Always exhale during the exertions of the exercise, ex; pulling down during a lat pulldown.
*Make sure you go slowly and with control to maintain good form.
1. Bent-Over Row
This primarily targets the middle of the back.
There are many ways to do rows. You can use a cable machine at the gym, dumbbells or any kind of weights. To perform a bent-over row, bend so that your spine is neutral, not curved, your knee and hand can be resting on a bench or a ball, squeeze your shoulder blade back as you tuck in your elbow to your side and row the weight up. Slowly and controlled return the weight and straighten your arm. You can also do two arms at a time.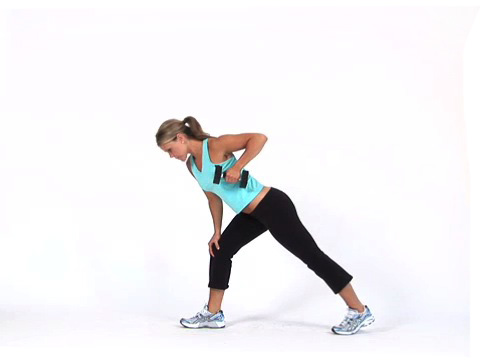 2. Continue