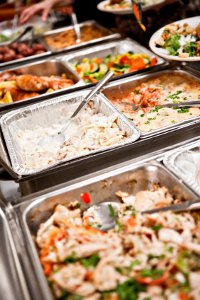 How much you eat is more determined by your environment and who you're eating with than your biology or genetics, according to nutrition experts. Knowing the types of nutrients that fill you up such as protein, fiber and water can help you eat less, feel full sooner and still feel satisfied.
Click here to read the full article:
Satisfaction guaranteed: How certain foods help you feel full
Dr. Diet weighs in:
This is an area of medicine where exciting research has given us insight into
why we eat the amount of food we do
. Here are some research highlights:
-- The more food we're given, the more we eat – regardless of hunger level – which is why large restaurant portions are such a big problem.
-- The more variety of foods that are served, the more food we end up eating (by 60% according to one study) – which is why buffets cause us to overeat.
-- If you're eating with someone else who eats a lot, you tend to notice and eat more – which is why we may eat more when in a group.
What's a frustrated dieter to do? Well, you could try eating alone at home and never go to parties with buffets, but that wouldn't be fun.
Instead, knowing the nutrients (protein, fiber and water) that fill you up sooner can help you feel more satisfied on less food.
When eating in groups, at buffets or in restaurants, make a commitment to take control of your portions by pretending your plate has dividers like those old picnic plates.
Fill ¼ with lean protein, ¼ with whole grain starch and ½ with fruits, vegetables and salads. This will give you the right combination of water based, high fiber foods and some lean protein. Eat slowly and enjoy.