The Deltoid Raise
The deltoid raise is is also known as a deltoid or dumbbell front raise and is an
upper body
resistance training exercise for the shoulder muscles. The deltoid raise specifically targets the anterior deltoids and is located at the anterior (front) part of the shoulder muscles. Since this movement targets the front of the shoulder, additional exercises would be needed to
target the other parts of the shoulder muscles
.
Perform the deltoid raise by holding your weights with an overhand grip and starting with your arms in front of your body. Keep a slight bend at your elbow joint as you raise your arm in front of you until it reaches shoulder height, then lower your arm back to its starting position. Remember to exhale as you raise your arm, and to inhale as you lower your arm.
Dumbbells are often used, but cable weight machines and resistance bands are other equipment options for this exercise.
Click here to watch a demo of the deltoid raise: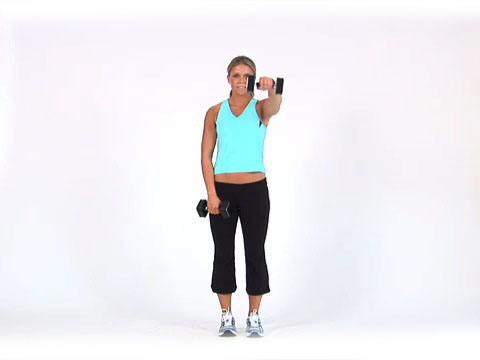 More Upper Body Exercises:
Bent Over Rear Fly
Browse our entire Diet.com database of Exercise Demos.