Practicing yoga on your own can be an enormous challenge. Without the structure of a class and a teacher there to cue, you may find yourself at a loss on your mat. It can be taxing even to devote the time to yoga outside the classroom environment. Home practices, however, can be a rejuvenating and highly rewarding experience. Whether you start your morning with a few rounds of surya namaskar or enjoy some restorative poses before bed, here are some tips for establishing and sticking to your home practice:
Schedule your yoga practice: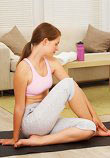 Write it in your calendar! One of the biggest challenges for many in having a consistent home practice is the persistent feeling that you simply don't have time. Assigning an hour to yoga in advance might just help you get beyond that feeling. Consider setting a weekly goal, one that you can reasonably accomplish, and do your best to meet it. I find that including yoga on my to-do list not only helps me to reserve that practice time, but also gives me one more thing to look forward to!
Figure out which time of day best encourages your practice:
While I often attend yoga classes after work, I know that when I go home I am much more likely to hit the couch than the mat. At the end of a long day, the discipline required to practice on my own just isn't there. I am much more inclined to pursue my practice in the mornings when I am fresh and rested. If you plan to practice at a time of day when you tend to crave ...
Continue