People who are fit are not just magically fit, they have to work to keep their fit bodies. Here are a few things that fit people do that can help you become a fit person, too!
1. Sleep and wake up naturally in the morning
Fit people fall asleep easily at night because they make sure they are active during the day. They also can wake up naturally in the morning without the use of an alarm clock because they put their bodies on a schedule.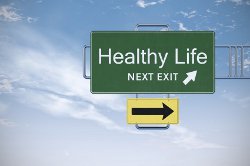 2. Exercise in the morning
Fit people normally exercise in the morning because it will help make them feel energized and powerful all throughout the day! They always make sure exercising is on their schedule, rather than trying to fit exercise in sometime during the day, they know when they will exercise.
3. Use positive self-talk
Instead of saying they are "fat" or "lazy," they workout and say things like they are "strong" and "powerful." Being positive will help them feel strong, and therefore they work hard and will get the strong body the want.
4. Rebound from setbacks
A fit person will occasional slip up and miss a workout, or eat a piece of cake, but instead of beating themselves up about it, they just go back to their schedule the next day. They won't let one setback ruin all the hard work they have put in to get their fit body.
5. Set and accomplish goals
Fit people set realistic goals, and keep them in mind as they train. They will keep working hard towards this goal until they achieve it, and then they set a new one. For example, their goal could be to go down a dress size, and then once they achieve that, their new goal could be to train for a marathon.
Start doing these things; and you will become a fit person too!
Leslie is the creator of the original Walk at Home program. She produced more than 100 popular DVDs, several successful infomercials in the U.S. and Great Britain, and has written four fitness books. Leslie has been called on by the President's Council on Physical Fitness, the PA Governor's Council, Weight Watchers, Jenny Craig, and TOPS. For more information, go to her website WalkatHome.com.